The Thailand golf team went to SEA Games with the goal of collecting all 4 gold medals, thereby reclaiming the No.1 position in Southeast Asia from The Philippines. To accomplish this goal, they have brought to Vietnam their best golfers in the land of the Golden Temple. On the first day of the tournament, Thai golfers showed their top skills.
Weerawish Narkprachar take the lead with score 68 (-4).
Among them, Weerawish Narkprachar performed the most impression round with a 68-stroke bogey free after the first 18 holes. He started with two birdies in the first two holes followed by 6 consecutive pars to finish the front 9 with a score of -2.
Moving to the back 9, the Thai golfer continued to maintain a stable performance. He added 2 more birdies on the 11th and the 17th holes to end the first day with a total score of -4. This achievement claimed Weeerawish Narkprachar ranking the first position on the first day of the tournament.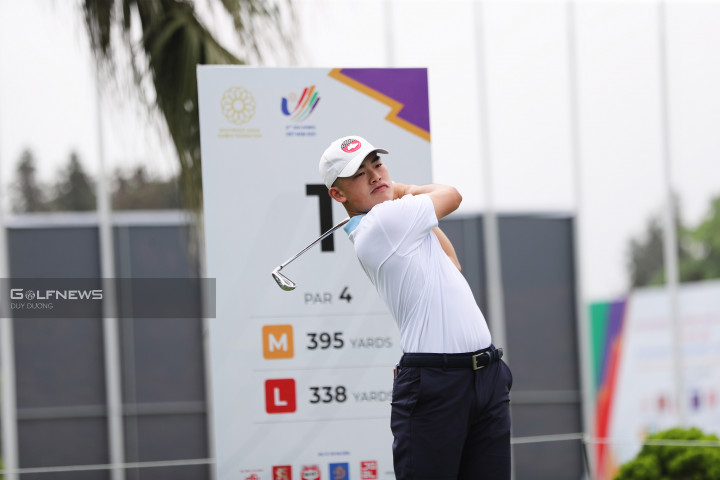 Second place is named by the Singaporean Hiroshi Tai Hirahara who scored four birdies and a bogey on the 14th hole. He's got an opportunity catch up with Weeerawish Narkprachar if he could convert his birdie chance on the 18th hole after a good approach to the pin, but not success.
Sharing the third position with a total score of -2 is the golfer from Thailand, Pongsapak Laopakdee and a representative from Indonesia, Amadeus Susanto Christian. No. 6th Thai amateur ranking golfer in the world – Ratchanon Chantananuwat scored 71 with 4 birdies and 3 bogeys to finished the day with the score of -1. Along with Ratchanon Chantananuwat's score, there were also Vietnam's No. 1 golfer - Nguyen Anh Minh and Ryan Ang from Singapore.
Another member of the Vietnamese team who is also in the top 10 after the first day of tournament is Le Khanh Hung. The PING's representative score an even par round with 4 birdies and 4 bogeys to share the 8th position with Arsit Areephun from Thailand and Naraajie Ramadhanputra Emerald from Indonesia.
Tomorrow (May 14), the second round will be an important day to all players before entering the final round of the tournament. GolfNews will continue to broadcast live to all the golf fans the second day of the tournament starting at 7:30 am on May 14th tomorrow.
Follow: https://golf.thethaovanhoa.vn/sea-games-31-weerawish-narkprachar-takes-the-lead-with-a-68-stroke-bogey-free-round.html